Local board game uses technology and conquers regional markets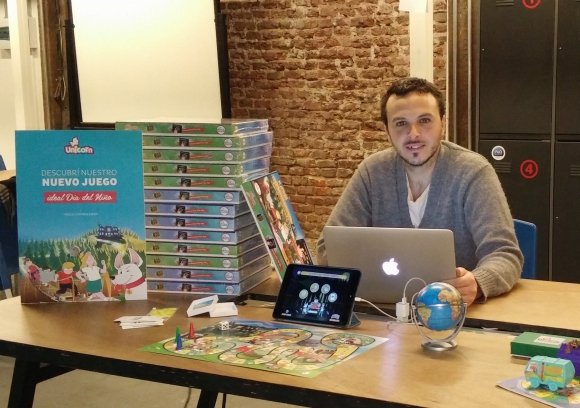 It has the dynamic of a classic board game in terms of taking turns, using dice to advance, and the interaction between the players around the game board. However, it also incorporates the latest Internet and technology through applications on tablets and smartphones (iOS and Android). The Explorers, the technological game line from Uruguayan company, Unicorn Games, set out to unite the traditional board game with the latest technology, and succeeded. The company started in early 2015, and launched their first game in June. They were able to place 1,000 units that year.
Success didn't take long. In December of 2015, the company expanded to Buenos Aires. Their products hit the shelves in seven Giro Didáctico shops. By the end of the year, they were already in twenty. In 2016, they launched three more games from their Explorers line. They were presented in April at the Argentina Toy Fair. Today their products are also in Walmart «a very strong point of sale», Jacinto Montu pointed out, along with his co-founder Constanza Wulff.
So far in 2016, 20,000 units were on the market, 16,000 in Argentina (mainly in Córdoba and Rosario) and 4,000 in Uruguay. The growth was so substantial that, thanks to sales in Argentina, the company was able to break even. Presently, 45% of their products are in sold in supermarkets and 55% are sold in toy stores. They are also sold at convenience stores and gas stations, Montu explains.
Additionally, Unicorn teamed up with Nupro Games in Argentina, which is one of the most important companies in their field. Nupro applied their knowledge in innovation and technology to three of their board games. And just like that, a company that started with two founders and a programmer now has seven collaborators.
Clever expansion
The games are 100% conceived and manufactured in Uruguay. The Unicorn Games team is responsible for designing the dynamics and development of the application interfaces, and a local printing press is in charge of production.
All of the boxed games include interaction with an application. «Dice is used to advance, but there are necessary elements that must be won on the application. For example, when a player arrives to a castle they must take a card and scan it. Then a coin is earned that can be used on the game board.», he explained. All of the games cost around $600 pesos (US$ 18.42).
This year, Unicorn Games dabbled in augmented reality through a «brick» game called Castillo de Fuego (Fire Castle) with Argentinian company, Rasti.
After the company's success in Argentina, the plan for the first trimester of 2017 is to launch three new games from the Explorers line and expand their regional borders to Peru, Chile, and Colombia. «We are currently closing deals in Peru and Colombia, and are in contact with a few manufacturers in Chile. Our business model is to always manufacture our own games and work with a local distributor», Montu assures.
With regional growth in the bag, the goal is to enter the US market before Christmas in 2017.
Development and Innovation
In parallel with their traditional board game business, the company also created an Innovation and Development laboratory to investigate technology related to the Internet of games and holograms. One of the products to be developed is a chip that is placed in a toy (a stuffed animal, for example) so that children can interact with it in different ways. «This got the attention of one of the most important multinational companies in the world, with whom we signed an agreement allowing them to apply our technology to their toys», he said, although he'd rather not share the name of the company.
Source: (12/09/2016). Juego de mesa local usa tecnología y conquista mercados regionales. El País, Uruguay.